DIGDASH ENTERPRISE: AN AGILE DASHBOARD SOFTWARE AT THE SERVICE OF YOUR ACTIVITY
Designed for business needs, our DigDash Enterprise software has combined performance and ease of use.
Our solution offers an adapted and structured vision of company data according to the needs of each user.
Employees finally use their dashboards independently.
CEO, HRD, DAF… Leaders are now able to manage their activity in real time and make more informed decisions.
Our added value? Our ability to develop our software towards a solution that is increasingly focused on the needs of our customers, in particular on the needs of business users, to help them manage their activity.
To achieve this, we offer a range of relevant and powerful features, but also personalized support and a continuous training process for our tools. More than just en editor, the DigDash team supports your IT experts throughout the duration of your project.
A RECOGNIZED DASHBOARD SOFTWARE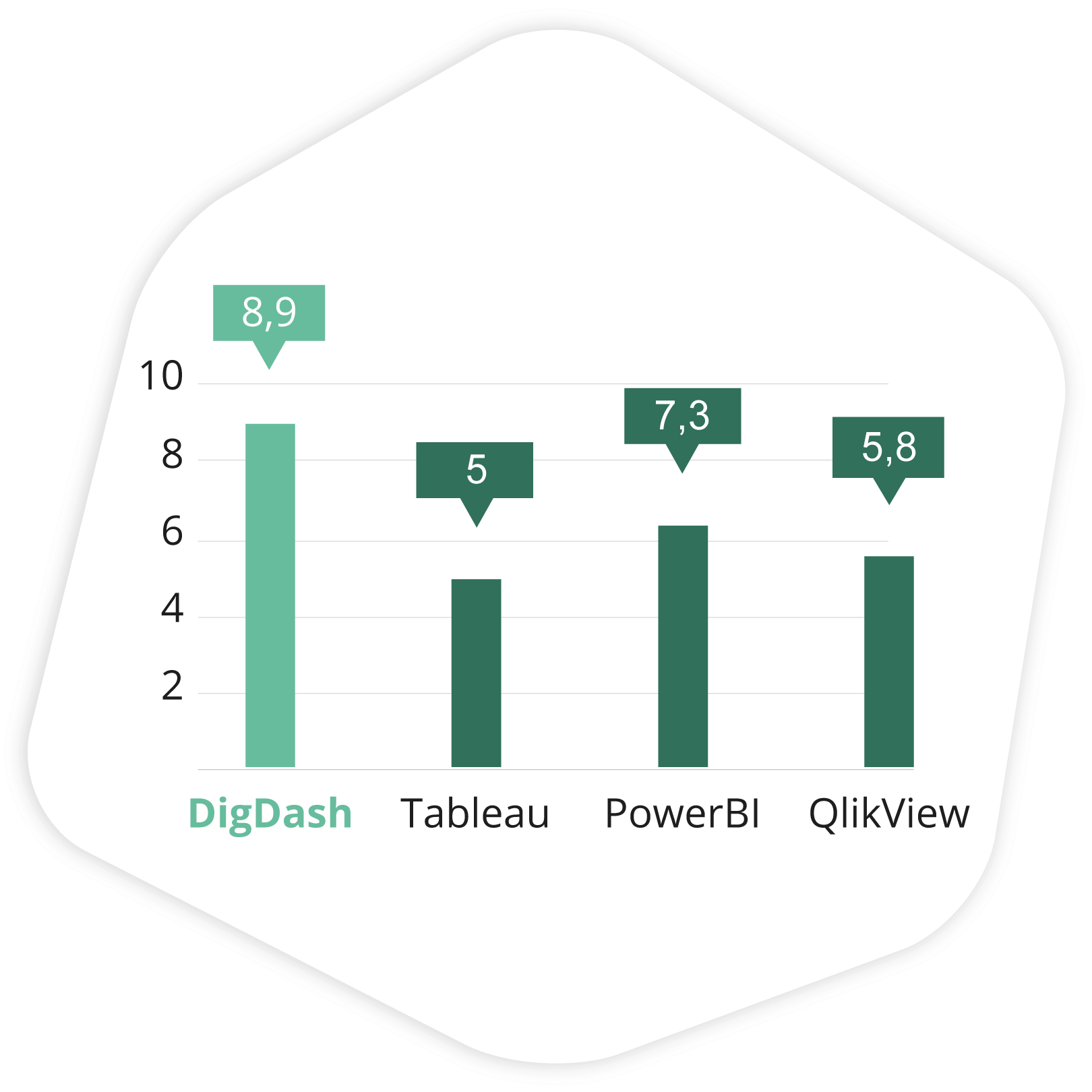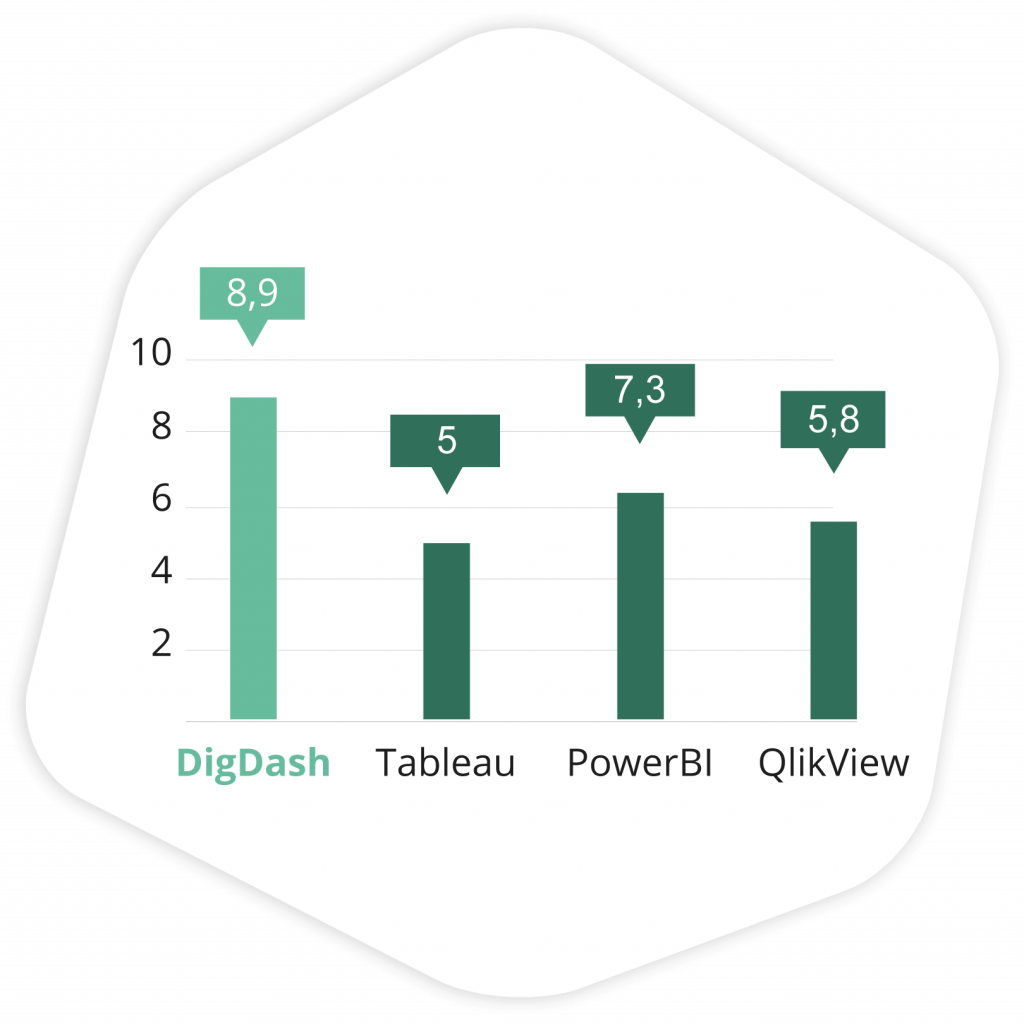 A SOLUTION RECOMMENDED BY ITS CUSTOMERS
100% of customers surveyed in BARC's  BI Survey would recommend DigDash to their business environment.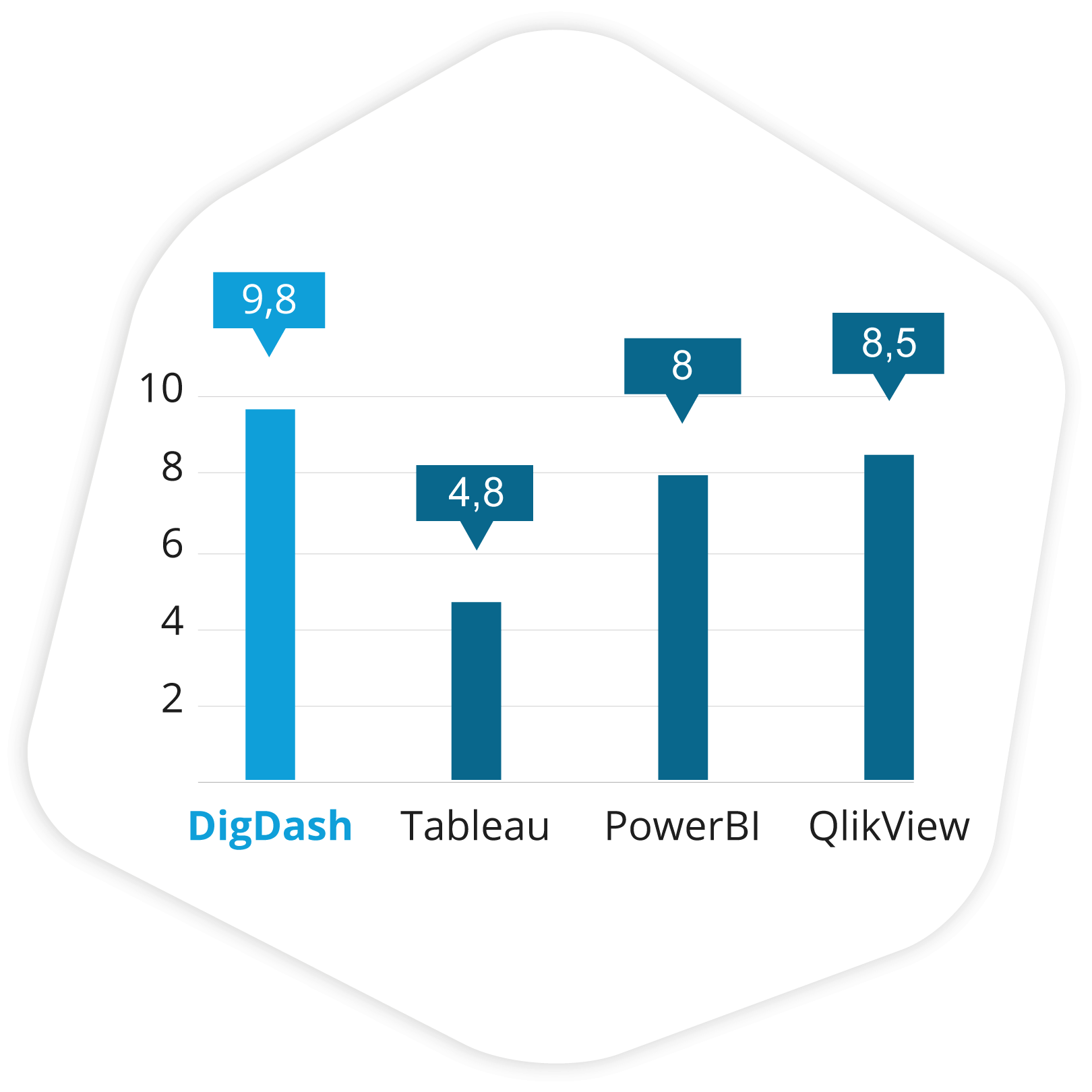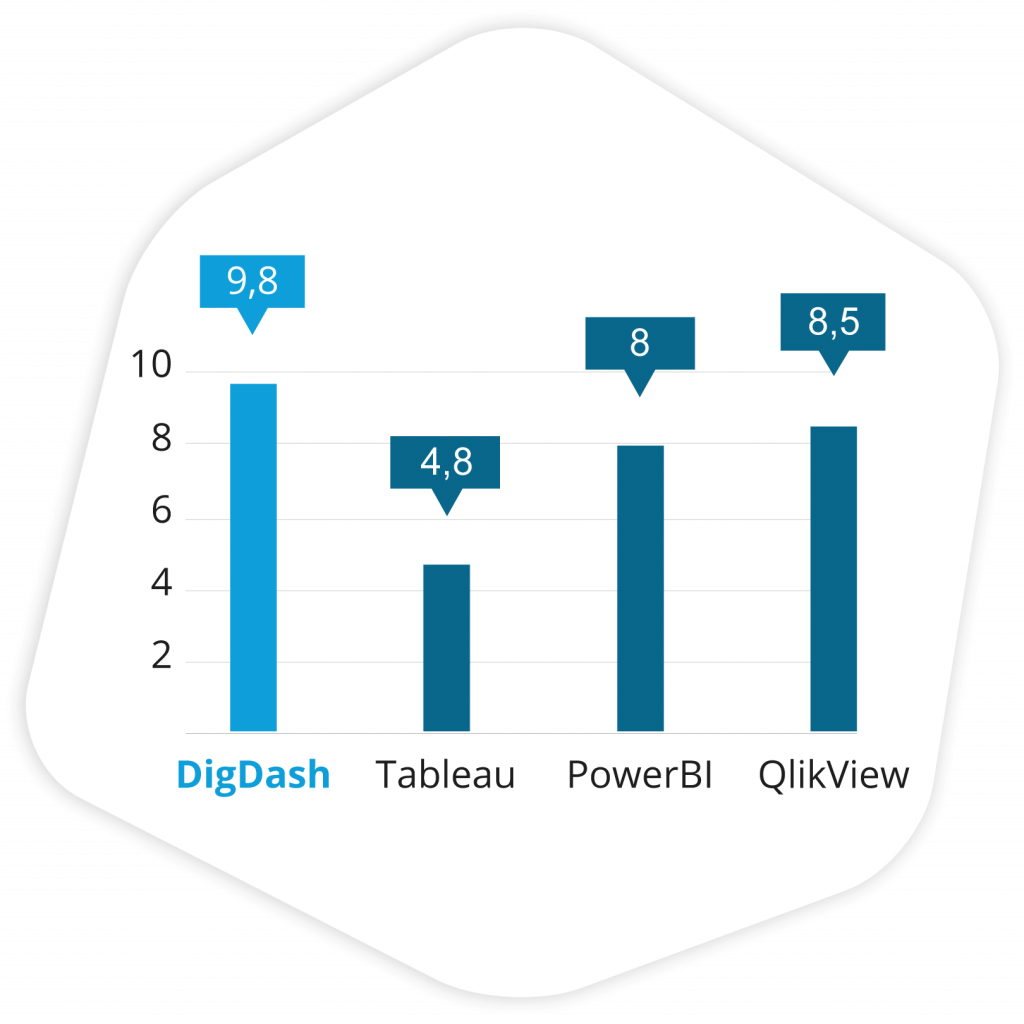 A PLEBISCATED TOOL FOR ITS PERFORMANCE
2/3 of users chose DigDash Enterprise for its performance/price ratio.
75% of customers surveyed reported having no problems using DigDash.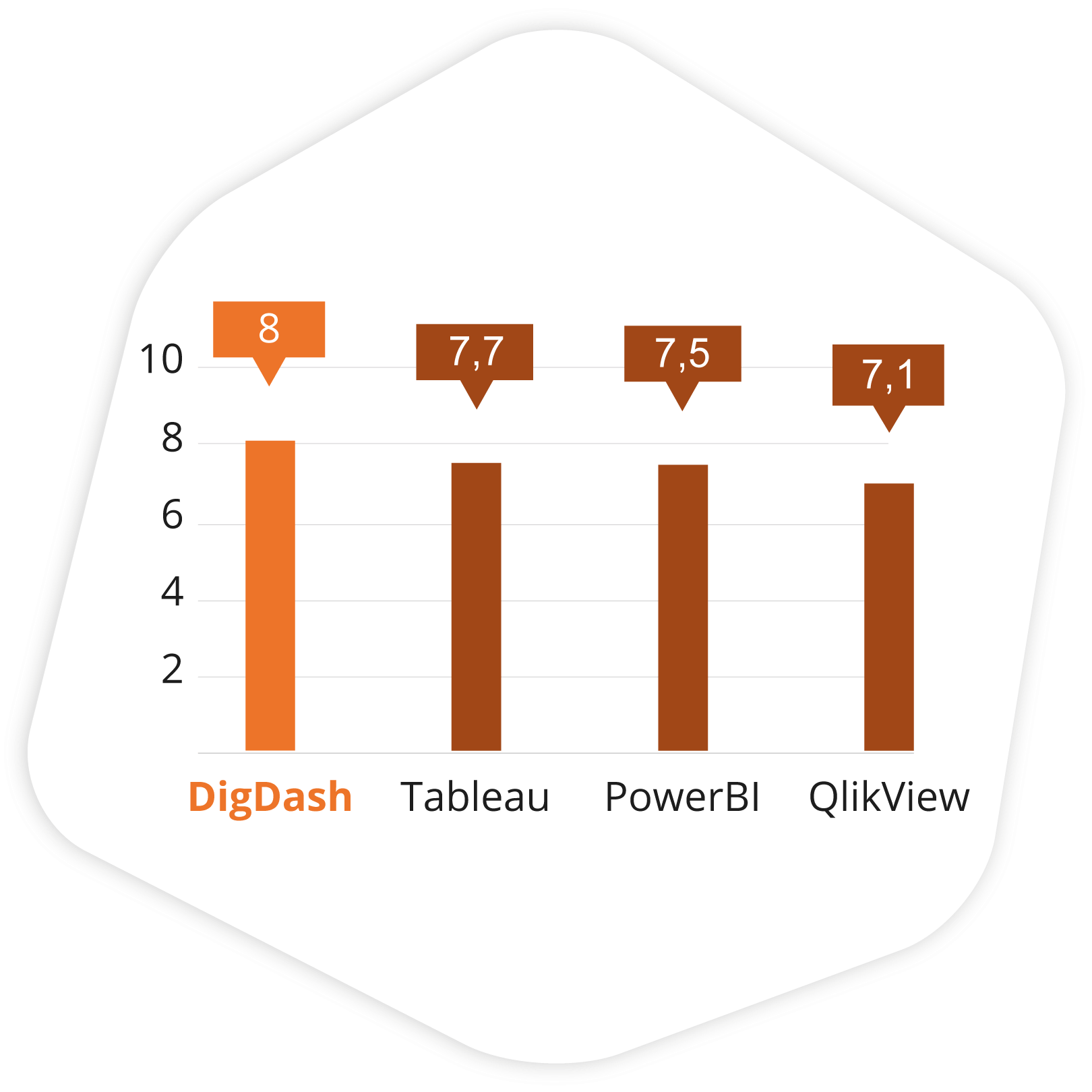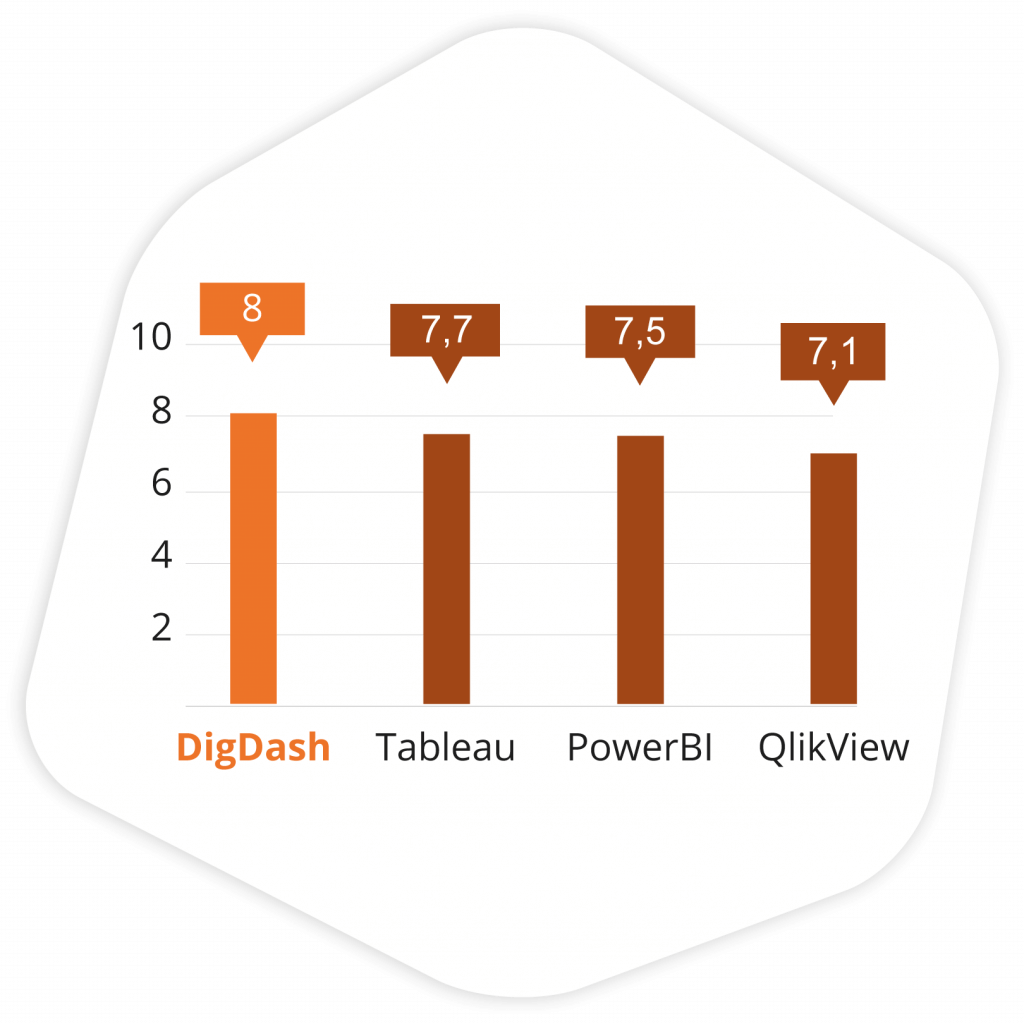 94% of dashboard users within the DigDash Enterprise solution rate the functionality as good or excellent.
THE FEATURES OF OUR DASHBOARD SOFTWARE
DigDash Enterprise is the only offer on the market to offer an all-inclusive functional approach. From data-preparation to document export, including databases and analysis cubes, everything is there to help you manage your business more efficiently.
Connector to all source types
Data transformation engine
Scalable analytical calculation engine (in billions of lines of data)
Large graphics library (barchart, timeline, gantt, map, …)
Rich interaction (filtering, exploration, display of details, personalized actions, …)
Fully customizable graphical theme
Dashboard Creation Wizard
Key influencers and simulated variables
PDF, PPT, vector, Excel, digital Export
Diffusion by Email / Deposit on documentary server
Alerting, triggering by threshold or programmed
Zero footprint client: full web responsive
Data security (GDPR, pseudonymization, etc.)
On-premises or in the cloud