The 2019 version of the BI Survey just came out! Conducted by the Business Application Research Center (BARC), this is the world's most comprehensive survey on Analytics and Business Intelligence, compiling the opinions of more than 3,000 people surveyed between March and June 2019 about their BI solutions.
As in the previous edition, DigDash Enterprise is featured in this survey! Created in 2006, this French software has attracted more than 450 customers in just a few years, bringing together more than 10,000 users in total. Operating in a multitude of business sectors, from industry to retail and public service, the company's customers include prestigious names such as Airbus, Orange and the French Ministry of Europe and Foreign Affairs.
Between big data, analytics and dashboards, DigDash has been able to offer an agile, simple to use and easy to deploy solution that meets a wide variety of needs: data analysis and visualization, processing of large volumes of data, etc. The figures from the latest edition of the BI Survey speak for themselves: Here is a complete overview of the survey results.
Customer Acclaimed Software
100% of users surveyed recommend DigDash. The company's main objective is to provide its customers with a software that offers high added value at a reasonable price, highlighting the success of their projects. A figure that demonstrates the company's commitment to user satisfaction.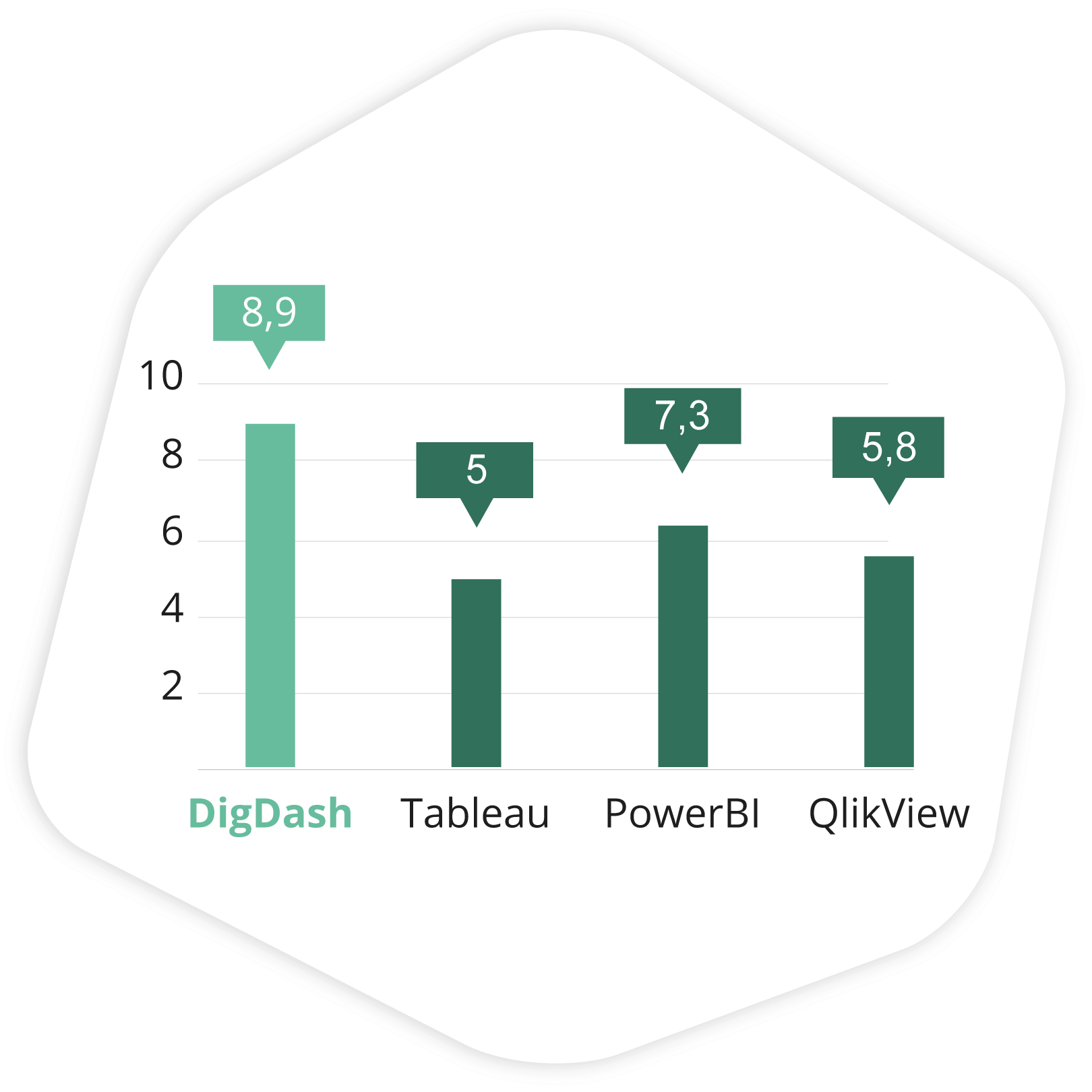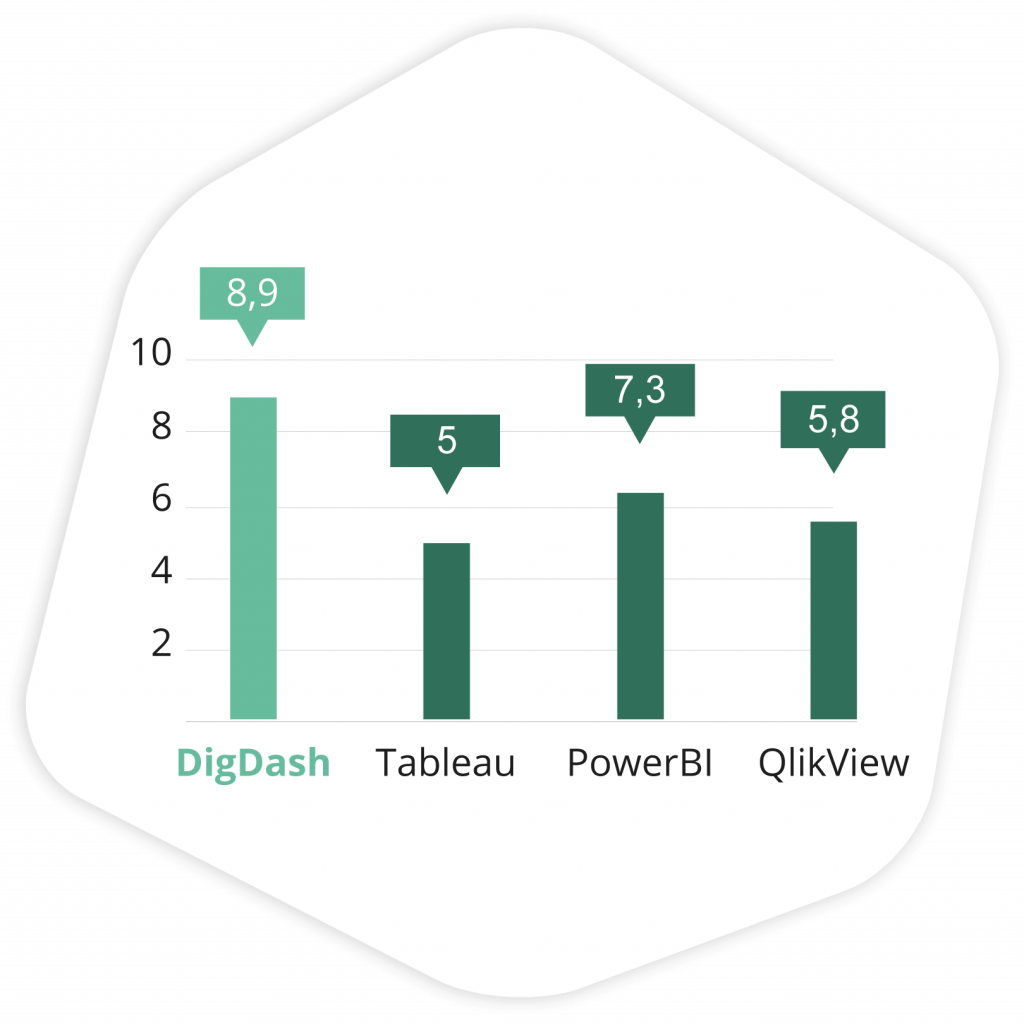 Customer Testimonial:
'A very good tool, easy to learn, quick to create reports, very satisfying reaction time for users.'
BI Project Manager, Agricultural Sector, 100-2,500 employees
But who exactly are the users of DigDash Enterprise and how do they use it?
Customers of this solution mainly use it to create reports (78%), dashboards (75%) and carry out ad hoc queries (56%).
DigDash still has a bright future ahead of it! 69% of the respondents plan to use DigDash Enterprise in the future to perform advanced analysis. This is consistent with one of the current development axes of the solution, which is constantly improving its data mining and analysis capabilities. Add to that the integration with R and Python, as well as predefined statistical functions for advanced calculations and you get a very powerful analysis software.
DigDash customers are mainly medium or large-sized companies, spread across a multitude of business sectors.52% of the customers surveyed work for large companies that have more than 2,500 employees, with a median number of 50 users per company. However, DigDash also ensures large-scale implementations with several hundred users.
Find out more:
How has DigDash Enterprise improved on the performance of our customers?
DigDash: The Choice of Flexibility and Customization
Flexibility is the main reason for which users choose DigDash Enterprise, with 60% of them stating that they chose the software for its flexibility (the survey average for all respondents combined is 42%). In fact, DigDash achieved a score of 7.2 on this criterion, compared to 3.5 for Power BI or 5.5 for Tableau.
These results are in line with the DNA of DigDash, whose vision since its founding in 2006 has been to offer more agile Business Intelligence solutions. Thanks to a highly customizable platform, capable of adapting to all types of business needs, the software stands out from the standardized and rigid solutions that exist on the market.
More than a simple dashboard, DigDash allows users, in complete autonomy, to integrate, analyze and discuss data from diverse and heterogeneous sources. Collaborators can select their data, customize their design, set their indicators, monitor their objectives and share their dashboards with their team, etc. All this without the need for help from a specialized IT department: DigDash makes BI accessible to everyone in the company!
Customer Testimonial:
'From the user's point of view, DigDash is a powerful tool that combines speed and flexibility of the interface in use. From an administrative point of view, the tool is very agile and its stability is valuable for tool management.'
BI Project Manager, retail sector, 100-2,500 employees
A real toolbox, the software goes beyond classic statistics. The proposed Ad Hoc analysis enables users to cross the axes of analysis and the values of their choice as they wish. DigDash is thus on the podium of the 3 best solutions on the market for Ad Hoc analysis (in the category of dashboard-oriented products).
As confirmed by an interviewed customer at the last Users' Club in November: 'The advantage of DigDash Enterprise is its level of customization: two DigDash solutions installed for two customers are completely different, in terms of ergonomics, look and feel, etc.' A quality that earned it the nickname of 'catlike' by its customers in the Chinese portrait game!
Simple Deployment, No Extra Cost
DigDash customers testify to the large number of successful implementations of the platform. The implementation of the platform combined with the company's excellent technical and business performance was rewarded with an excellent score of 9.3/10. This highlights DigDash's ability to understand the needs of its customers and to offer them a customized solution, perfectly adapted to their needs. The software is also highly rated for its ability to respect any allocated budgets (9.6/10).
DigDash also excels in the 'Project Success' KPI of the BI Survey. Here, the solution obtained a score of 7.8/10, putting it a long way ahead of other solutions such as Power BI (6.8), QlikView (6.6) or Tableau (6).
In addition, the company was also chosen for its excellent quality/price ratio, receiving a score of 8/10 for this KPI, which placed it among other market leaders in the category 'Dashboard-oriented products'. Users highly appreciate its attractive financial offer, which integrates all future functionalities without additional costs or modules.
Customer Testimonial:
'DigDash totally meets our expectations (easy to use, simple, efficient, flexible, quick to set up…).'
BI Project Manager, Industry Sector, >2,500 employees
Performance, resistance and power
A more than satisfactory performance for users, since DigDash managed to get the excellent score of 9.8/10 in the Performance criterion. The tool even reached 2nd place for market solutions in this criterion (in the category 'products focused on Ad Hoc reports'), where Tableau is at the bottom with a score of 4.8.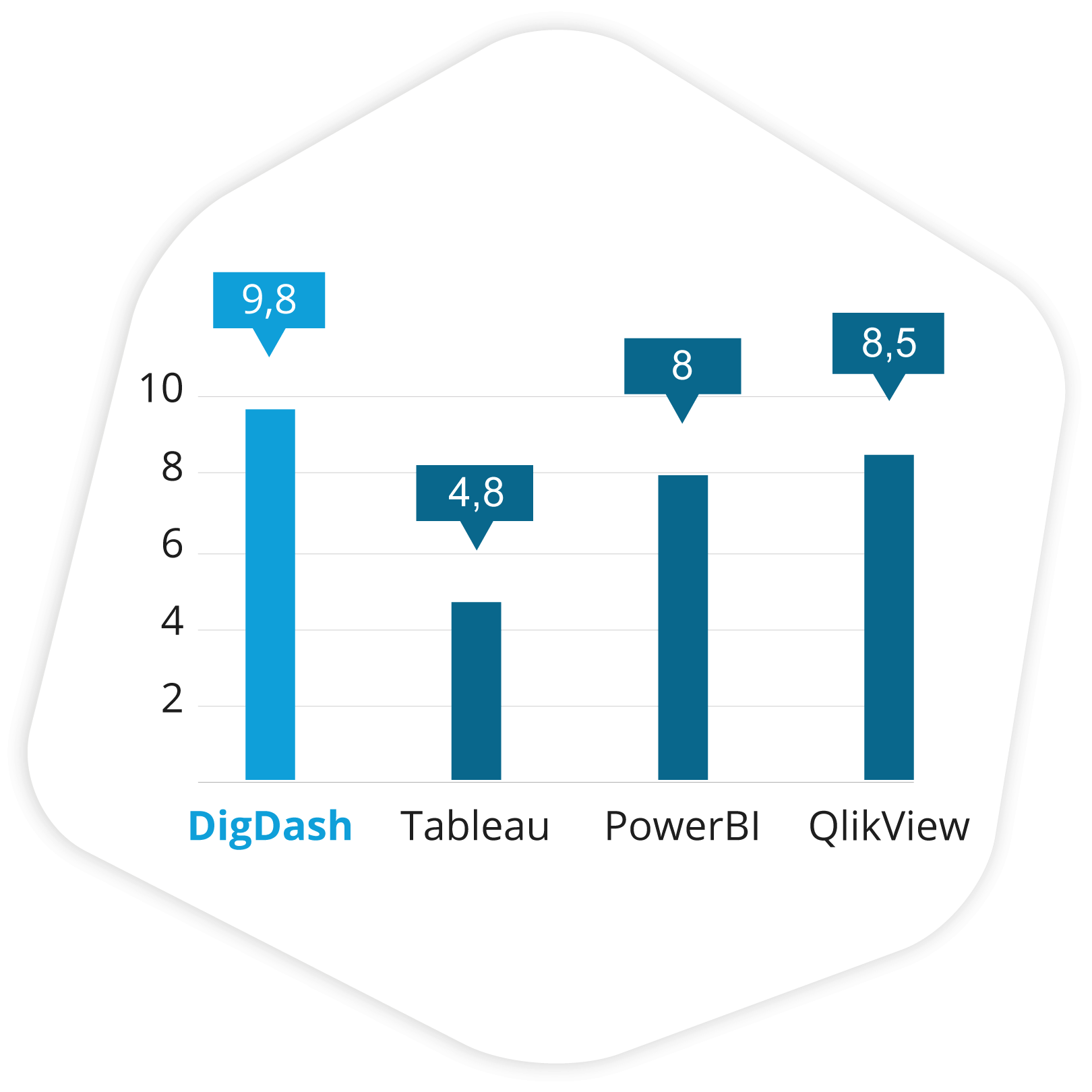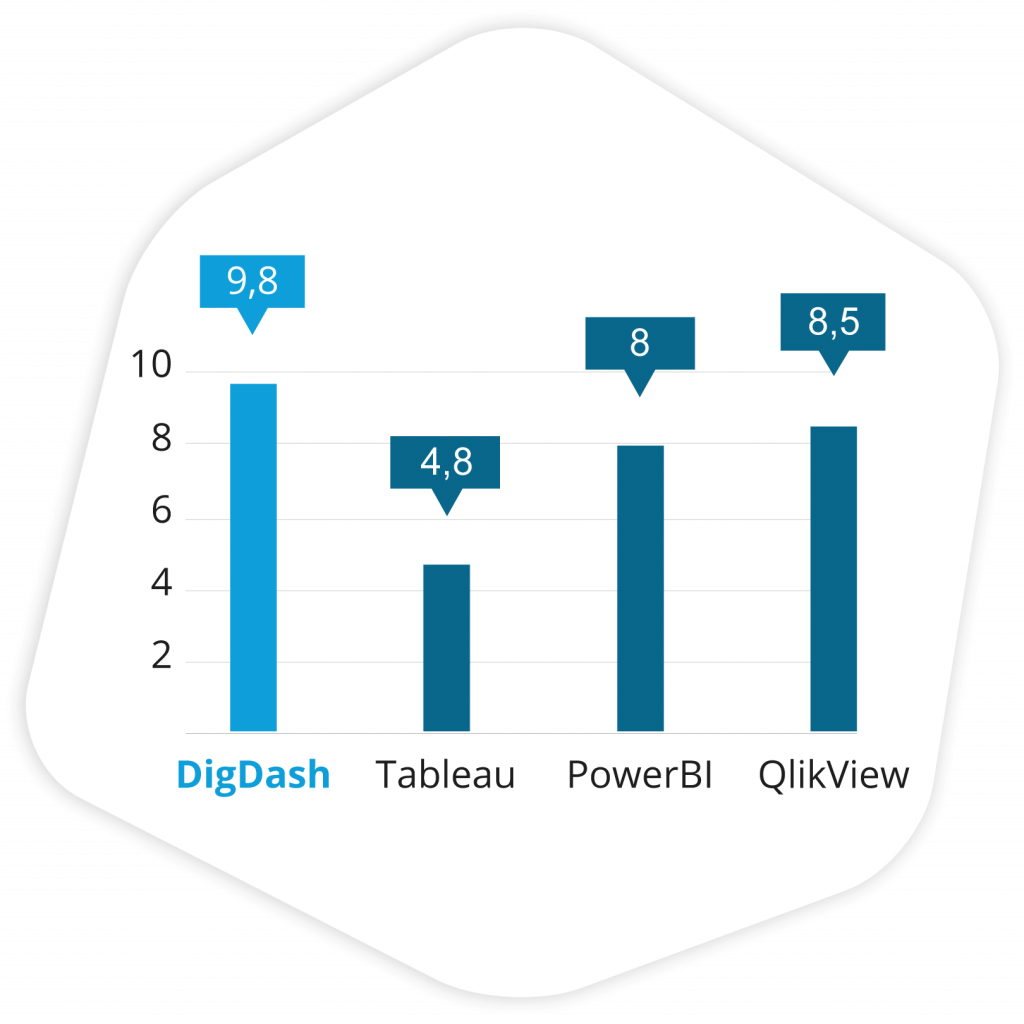 With customers managing billions of lines in their dashboards, the tool offers real performance satisfaction to its users. DigDash also received an excellent score of 8.5/10 for its data analytical capabilities.
Customer Testimonial
'Excellent decision-making solution. Reactive, scalable, high ROI of development and it responds perfectly to our problems. Excellent relationship with the editor with great confidence in the technical expertise provided.'
BI Project Manager, Public Sector, >2,500 employees
An unrivaled customer relashionship
Customer relationship is another strong asset of DigDash, which received the 2nd best score in this category. The company stands out in particular for its ability to provide quick and complete answers, always in line with the various problems users are facing. Numerous customer reviews testify to a high quality of listening and a good understanding of their needs, especially in terms of updates and specific developments.
100% local and French support. This customer relationship is further strengthened by the internal teams at DigDash, as well as the numerous regional events aimed at meeting users. The survey therefore confirms the differentiated position of the French challenger in the highly competitive international BI and Analytics ecosystem.
The 2019 BI Survey rewards the efforts undertaken by DigDash since 2006 to develop a high-quality solution. Excellent performance (ranked 2nd in this category). This powerful and reliable solution allows companies to exploit large volumes of data. This is not incompatible with thorough and highly accurate analysis!
In addition to its resistance, DigDash Enterprise is acclaimed by its users for its easy implementation. A flexible, highly customizable software and a company that fully understands the needs and challenges of each business: Here is the winning cocktail of a BI solution that is easy to implement in all business sectors. Add to this a clear offer, with no surprises or additional costs, and you get satisfied customers.
But that would be forgetting the importance of relationships. DigDash makes an effort day after day to offer the best technical support, while maintaining a constant link with its customers. A 100% French company that stays close to its users so as to better serve them.
Fill out the form below to receive the full report from the German agency BARC: